Filmography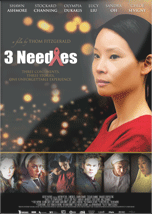 3 NEEDLES
A Catholic missionary in AIDS-stricken Africa, a Chinese blood smuggler and a hapless Montreal porn star each make a seemingly insignificant sacrifice, only to feel their entire worlds unravel and their identities reborn...
3 Needles tells the moving story of how the harshest tragedy can sometimes bring out the best in people. It is a tale of bittersweet hope and of finding redemption in the unlikeliest of places.
With a talented cast featuring Academy Award Winner Olympia Dukakis and Academy Award Nominees Stockard Channing and Chloe Sevigny, 3 Needles opened to limited release on Worlds AIDS Day on December 1, 2006.
» Trailer Coming Soon »
Official Site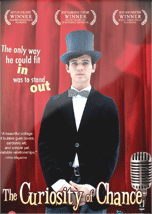 THE CURIOSITY OF CHANCE
It's the early 80's, and eccentric and alienated teenager CHANCE MARQUIS is starting his sophomore year at a new high school. Never one to fit in or make friends easily, Chance is at the height of his teen-angst when things grow progressively worse. Targeted for on-going abuse by bully-in-resident Brad Harden, Chance enlists two oddball friends, a popular jock and a drag queen in his never-ending effort to find a way - any way - to fit in and be accepted.
Chance's year of self-discovery leads him to find strength in his own voice, both literally and figuratively. Chance discovers that as bizarre as they all may be, his family and friends form a foundation of strength and support that will see him through the toughest and funniest of times. When high school makes you want to cry, usually the best defense is a good laugh.
»
Watch Trailer
»
Official Site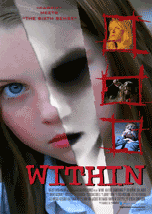 WITHIN
Rachel Weiss is a sweet girl with a troubled soul caused by a unique gift - she can see evil spirits within others. After witnessing the brutal killing of her mother, Rachel and her father look for a fresh start by moving to a small town. Rachel quickly warms to her new school teacher Abby Miller, and becomes 'best friends' with classmate Michelle Lowe.
When Michelle's penchant for schoolyard pranks turns from good-natured fun to something potentially deadly, Rachel suspects that her friend may be less than friendly. Rachel's visions could be the key to stopping a series of violent attacks against the town's children and unlocking the puzzle behind a grim murder.
» Trailer Coming Soon »
Official Site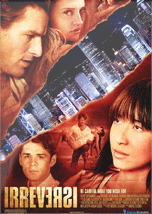 IRREVERSI/HUI LU
In the psychological thriller Irreversi, filmed in two languages (English and Mandarin), Adam has made it big. He's cashed in on an important technology patent that makes him an overnight millionaire, and he marries the girl of his dreams, Lynda. Life seems perfect until Lynda discovers a key that begins to unravel the past.
Could Lynda's brother have been murdered by her new husband? And why is Adam working more after he sells his company for millions? As Lynda gets closer to the truth, the couple's bond of trust takes an unexpected turn. Someone's life may now be in danger.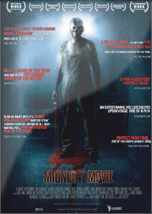 MIDNIGHT MOVIE
A mysterious and eccentric old man creates a horror movie that no one wants to show. He convinces a local theater to show the film in a special midnight screening. Several 20-somethings show up for the screening while the old man who created the film goes missing.
The film is in black-and-white and doesn't hold the interest of the viewers... until they recognize that THEY are becoming the feature in real time. The gruesome reality begins to play out as the small group of theater-goers become subject to a killers mercy all being played out on screen.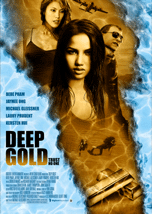 DEEP GOLD
Shortly after Cebuano freediver Amy Sanchez breaks an important freediving record, her boyfriend - Philippine Air Force Pilot Tony - mysteriously vanishes together with a flight that is supposed to bring millions of dollars worth of gold to the Central Bank in Manila. Determined to discover the truth, she goes off with her sister to find out.
Is Tony actually dead? Or if not, is the man she loved really part of the plot to steal the gold? But she has no idea that she is about to discover the unexpected, and entangles herself in a web of lies and deceit before she finds out that somebody used her for what turns out to become a much larger conspiracy.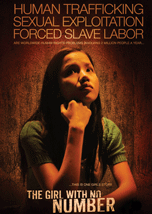 THE GIRL WITH NO NUMBER
In Vietnam, Phuong Ly, the young and beautiful daughter of an impoverished fruit vendor is deeply in love with her boyfriend. His wealthy mother, however, has higher aspirations for her son and engineers their break-up. Heartbroken and overwhelmed with financial burden, Phuong Ly travels to Saigon in the hope that she might find a solution to her family's financial struggle. Desperate and alone, she becomes entangled in the dark underworld of marriage agencies. Hopeful that the foreign man she has agreed to marry will offer her and her family a better life, Phuong Ly leaves her native land for the promise of America. With it quickly becoming clear that her new husband is motivated by more sinister intentions, Phuong Ly must now engineer her escape from the nightmarish existence that she has become enslaved within.
» Trailer Coming Soon »
Official Site